Catalog
Catalog
My Emotions Book
This book is designed to help people track and understand their day-day, week-week, and month-month emotion changes.
It is set up so that you can record your feelings three times a day and why you are feeling that way. You can find out what parts of the day are good and which are not and how to change the not so good in to the good. At the end of each day there is an emotion rating spot this is for you're over all emotional rating for that day. At the end of the month there is a month emotional rating chart for you to chart you daily ratings. At the end of the book there is a year emotional rating chart.
I originally made this up for myself after having been asked by my counselor several times to record my feelings through out the day. I though hey, if it helps me why not see if it helps others. So, here is it. If it does or does not please let me know.
I have used this book for a year and wow has it helped. I had thought that there were more times in the year that I didn't feel all that great. But when I took time to record it everyday I noticed that the opposite was true.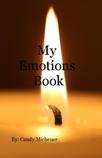 My Emotions Journal
This book was created to go along with the "My Emotions Book". In this book there is a page for each day of the month in which you can record you thoughts and emotions. It is separated into months as to make it easier to read and fallow in combination with the above mentioned book.
At the end of the journal sections there is a list of 493 emotions to help you express yourself.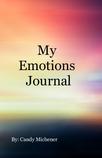 Poems of the Heart
Inside these two covers is a small collection of my poems through out the years. I hope you enjoy reading as much as I enjoyed writing them.